I finished the (mostly) red socks at the post-wedding reception party on Saturday. There isn't anything terribly special about these socks except that they are the first toe-up socks I've actually finished. I followed the generic pattern found in Wendy Johnson's book using a provisional cast-on and a short row heel.
I'm pretty happy with how the striping worked out- I know it's not a terribly close match, but that wasn't terribly important to me this time around.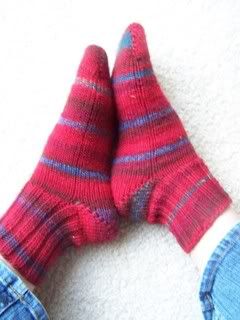 I've been trying to pick projects in the last few months that will help me learn new techniques, and the easiest way for me to do that is to pick projects that I really want to make and learn the technique within the project. I just don't do well with the whole "must knit a scarf before you can make anything else" kind of thinking. I've been looking through potential projects with this in mind and I'm holding off on a couple I had posted before. Instead I cast on for Ender's requested hat and for the February Lady Sweater based on Elizabeth Zimmerman's February Baby Sweater.
I also *finally* wove in ends and put the button on the Shalom cardi. Pics to come!