Join Jen at Conversion Diary for more quick takes.
~1~
I joined in on Olympic knitting:
Here
 with Stephanie Pearl-McPhee's group and over at
Ravelry
too. My project is the
Thorpe hat
. It includes 2 techniques I haven't used before- stranding and reading a chart. We'll see how this goes!
~2~
Do children outside of tornado alley play "I think I see a twister over there!" ?
Just my kid, you say?
I should have known.
Tornadoes have been on Ender's mind all week and he declared it his new project.  We found a DK Eyewitness book about Weather that has led him into wanting to know about all kinds of weather. The really cool thing? He's so interested in this project that he asked the librarian for help on his own for the first time. She did look at him (and me) a little funny at first, but showed him where to look for weather books.
And just so you know- "REAL tornadoes can't happen in the winter but "snow tornadoes" can. They're really hard to see though. Most grown-ups can't see them."  Ender is a fount of obscure information. 
~3~
The boys get to meet their new cousin this weekend. My sister K is being released from the hospital some time this evening and she invited the boys to come see baby Lucas sometime this weekend. They have seen pictures of him and Ezra is getting pretty good at saying his name- "woo-cussssssss". For some reason he holds onto the "s" for ages! It's very cute. 
~4~
I've seen enough recommendations of The Craft of Baking in the last few weeks that I finally got a copy from our library. WOW- I think I found the book I'm going to bake through this spring/summer. Ender practically started tagging pages for me, so that was a pretty good sign.
~5~
My mom gave me a huge bag of yarn- a lot of it is mystery yarn, but I think I'll figure it out. There's everything in there from super fine to super bulky- I've already assigned some yarn for socks, and I think there is enough between two colors in there for a baby sweater for my new little nephew.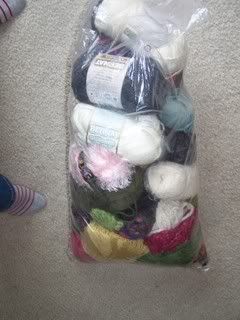 ~6~
Anyone remember that non-verbal toddler I had just a few months back? We were scheduled to go back for a re-evaluation on Ezra's speech this month, but I'm pleased to say that there's no need now. Ezra needed to be putting 3 words together by this month and in the last 3-4 weeks he's moved into at least a few full sentences a day. It's still a lot of pieced together words for most of his communication, but a few times a day he pulls out a complete correct sentence. It's really nice to hear after worrying about him this long.
~7~
I'm in a reading slump. I've read about 3 chapters of 3 or 4 different books and nothing is working. I'm still waiting on the next Percy Jackson book from the library and I'm out of historical fiction. Boo-hoo, right? Having nothing to read just means that I'm knitting even more, as if that's possibility. Knitting is about all I'm doing right now outside of work and caring for littles. Suggestions anyone? I'm willing to try anything to find a good book!