Joining in on the fun over at
Organizing Junkie
 . . .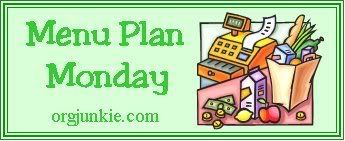 We're getting ready to move, so this week and next week's menu plans will be light and easy to do. I don't want to buy much in the way of groceries except for the necessities (bread, soy milk, etc.) so I'm using things that are on hand-- I want to finish up vertain things in the fridge and freezer so they won't make the move with us! This is also the week that we're doing a lot of packing, so easy and fast is a must. Between our regular life schedules and the packing, we're pretty swamped.
These meals are super kid friendly, mostly because I don't want meal time to be an added stress this week. We're trying to get our toddler to eat a wider variety of foods, but this is not the week to work on that.
This week:
Monday: Chicken Quesadillas
Tuesday: Grill hotdogs and hamburgers
Wednesday: Easter Dinner Leftovers
Thursday: Vegetable Soup in the crockpot
Friday: Spaghetti
 Saturday: Leftovers or sandwiches
Veggies or fruit go with all meals; that is the item I let our toddler pick so he may actually eat some of it.