There is a sweet little Apron giveaway over at
The Apronista
- check it out! These aprons have me seriously drooling.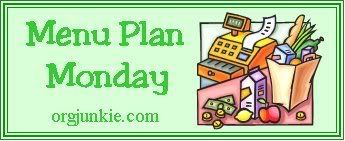 I'm still keeping it pretty simple and kid friendly as our evenings are (still!) being spent unpacking this week.
Monday: Spaghetti, green beans and garlic bread
Tuesday: Hamburgers and Cheesy Hashbrowns
Wednesday: Chicken and Rice in the Crockpot
Thursday: Veggie Soup in the Crockpot
Friday: Left Over Night
Saturday: Eating Out (we'll be on our way to a baseball game during the dinner hour!)
Sunday: Breakfast for dinner- waffles and pancakes, fresh fruit and eggs.