Last night DH took the boys out to play at the park and walk around the lake so that I could have some time to prepare for this weekend. The boys are staying with my in-laws Saturday night (the first time for the baby!), and I'm spending all day Saturday with 2 of my sisters and 2 of my sisters-in-law doing crafty things. We're all bringing whatever we're working on and doing it together- two bringing scrapbooking, one is going to finish her gift bags for her wedding (which is 3 weeks from tomorrow!), one is bringing her cross-stitching, and I'm going to be sewing like a maniac. All of our brothers and husbands are going to be doing a bachelor party type thing for the afternoon/evening in honor of our future brother-in-law. Basically because they are all gaming geeks, they're going to go out for an early dinner and then go back to my brother's house and have a giant LAN party.
So Last night I went to Target for a few things and then to Joann's Fabrics to get a few notions and fabric for our get together tomorrow. Here was my exciting find at Target:
The yellow cloth bins were on clearance for $3 each. The 3 long tins were in the dollar spot section and were $2.50 a piece. The cute little striped bucket was $1, and the splurge for me was the cream/blue/green cloth storage box at $14.99. The yellow bins are for in our minivan to keep some of our things under control. I leave a few books and toys in there all the time along with my baby wrap and I don't like to have them rattling around on the floor, so 1 bin is for those things. The other bin is going to be my "emergency" bin- a few extra diapers, wipes, hand wipes, hand sanitizer, some bottled water, 1 jacket per kid, and 1 change of clothes per kid- basically all the kid stuff that I very likely might accidentally leave behind or need suddenly for them.
The other bins were purchased to curtail the disaster in the space behind the couch:
Awful isn't it? There are a few stacks of laundry, bags holding my next few sewing projects, my couponing binder and a few unfiled coupon inserts, a box of random stuff, homeschooling materials, random kid toys.... I want this space to be neat! I'm putting a desk back there that will help me keep organized with things like coupons and homeschooling up on top, and I'm going to store my sewing things under the desk. The laundry shouldn't even be back there at all!
And just for fun, I want to list all my projects I'm hoping to accomlish this weekend:
1. Finish the denim and pink Apron I started last week (probably about 1 hour)
2. Nemo pillow case for DS1 (30 minutes, MAYBE)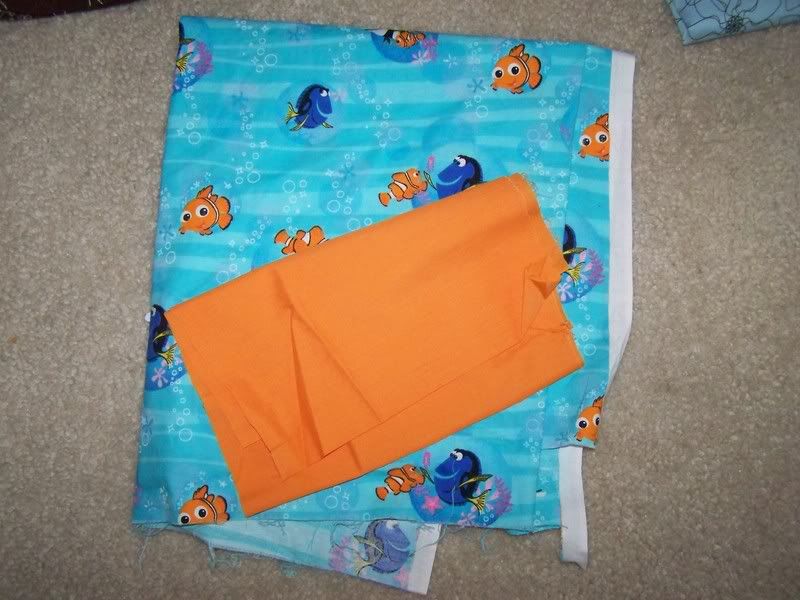 3. Pink and green shirred dress for myself. (about 1 hour)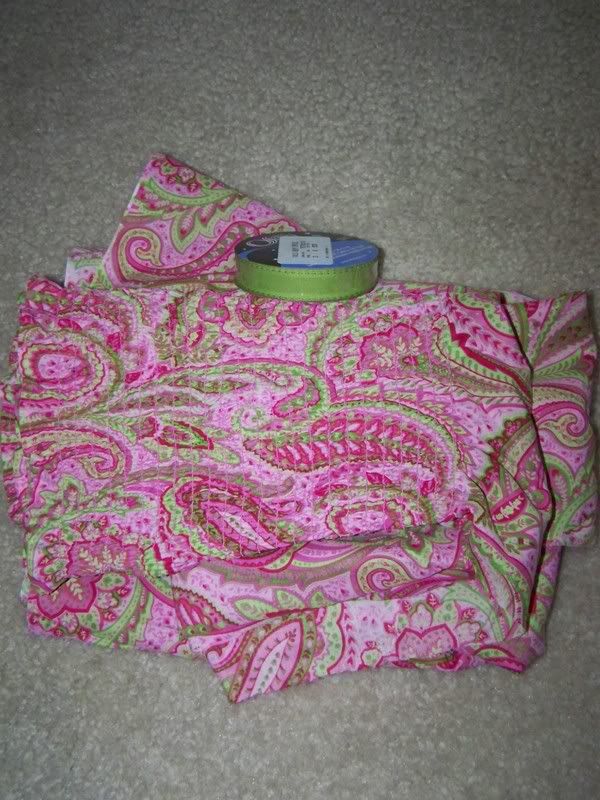 4. Blue flowered apron as a gift for my sister's wedding (I haven't made this pattern before so I'll guess 4 hours, but I'm hoping it will be more like 2.)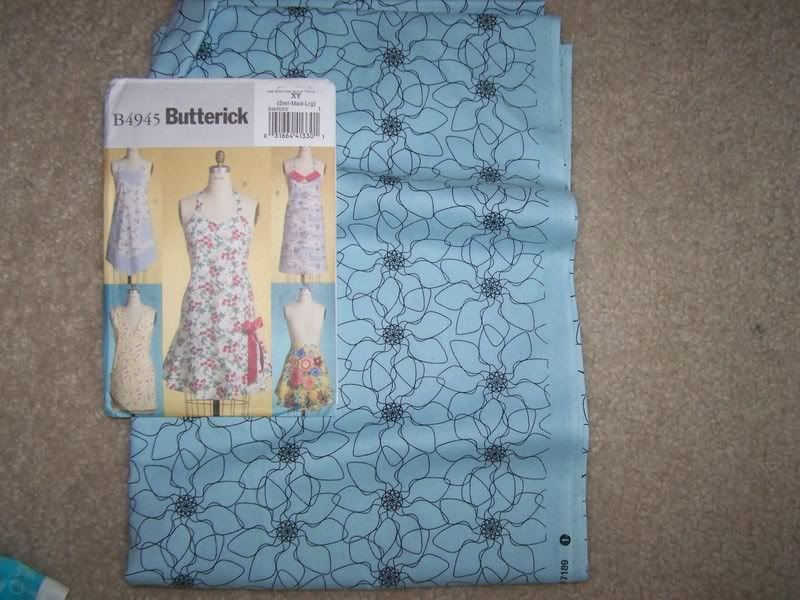 5. My Dollar spot Apron- I found these 2 cloth placemats at Target in the dollar store, and I'm going to reconstruct them into an apron. :) (about an hour, maybe 2, depending on how technical I want to get...)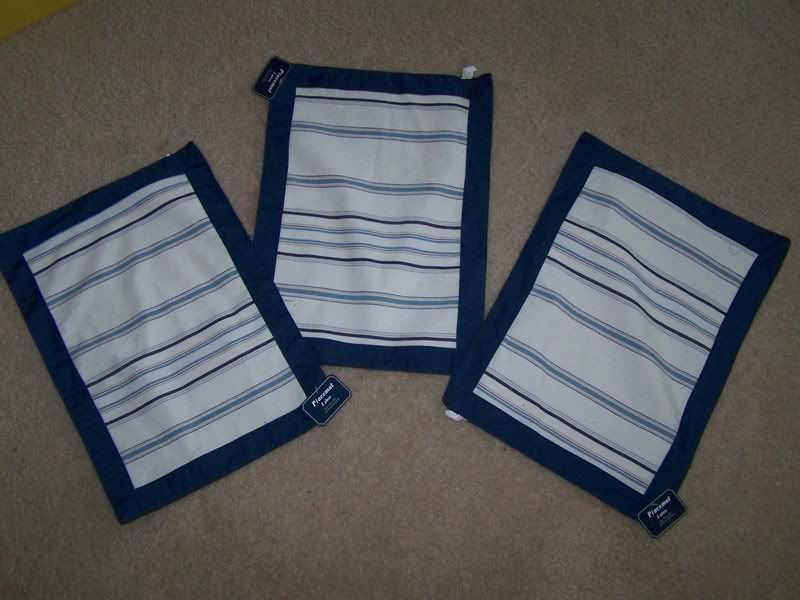 6. PJ's for myself (about 4 hours)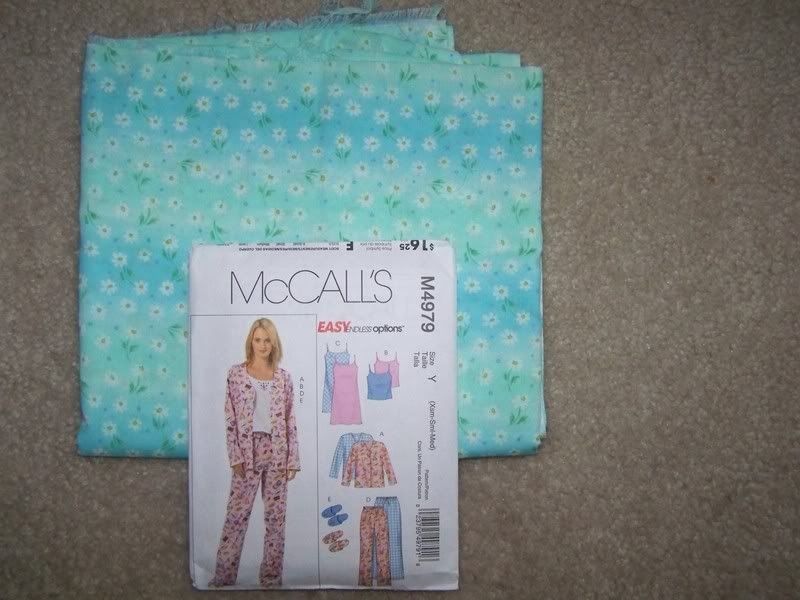 7. A brown flowery dress for myself. (I won't venture a guess. I've never made anything like this before!)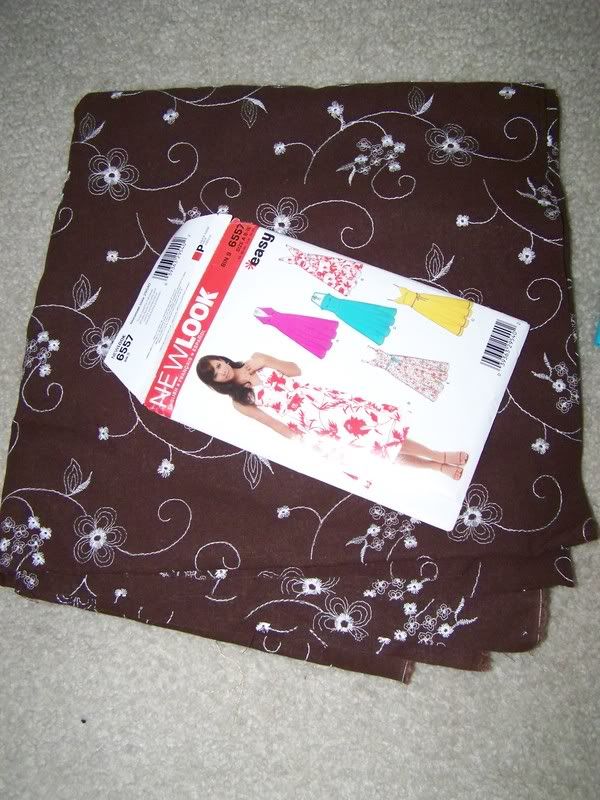 I know that's a lot of plans- I want to get through the 3 aprons and the pillow case for sure and I'm pretty sure I'll get the shirred dress done also. I want to at least get the pattern pieces cut for the nightgown and the brown flowery dress, but I won't be heartbroken if I don't get to those. I know I'm already asking a lot of myself!