Go visit Jen for more Quick Takes!
~1~
Ezra went for his 2 year well-child visit yesterday and we found out he has grown FOUR INCHES in 6 months. He's closing in on his brother again! Ender needs to hit his next growth spurt or they'll be in the same size clothes for awhile! The only concerns for Ezra are the trouble he's had with congestion this year and his speech. He has gained some vocabulary over the last 6 months (I'd estimate he has between 30-50 words), but his speech is unintelligible to most people outside the family and some things we consider "words" are really just a sound we associate with a word. For example, until very recently he said "muh" for "milk" but because he used the same sound to mean the same thing every time we treated it like a word. (He now says mick for milk) His receptive language is excellent, so he's not behind necessarily- just on the lower end of average. We will go back in 6 month for a re-check on his speech, but as long as he keeps acquiring language between now and then he should stay in the normal range.  
~2~
After the doctor's appointment yesterday we stopped in at one of my favorite thrift stores and walked out 2 vintage sheets and 2 very cool baskets richer. If you're looking for storage for your Montessori materials or fabric or *whatever*, this is the way to acquire your baskets and trays!  
~3~
I'm still working on the table tent- it has to be finished by tomorrow for the party, so guess what I'll be doing this afternoon during naps and tonight after the boys go to bed? I thought I'd mostly finish it last night, but I spent most of the time messing with tension and all that in order to sew on the canvas. Thank goodness my mom doesn't care if I call her after 10 p.m. (as long as it's a sewing question!) So the tension is sorted out and the doors are sewn on- only the back and sides to attach, serging the seams (naptime portion of the sewing) and the hemming, which will take the evening.  
~4~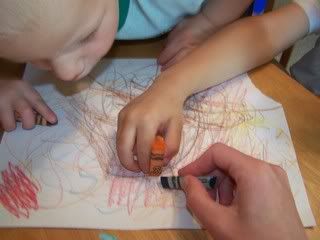 Our new family game? Speed coloring. We all use the same piece of paper and take turns saying "fast" or "slow" and we all scribble fast or slow. There is a lot of color switching between speed changes, and it's important to Ezra that we all use his new favorite medium: crayons. We haven't ventured into markers with him yet, but he will LOVE them!  
~5~
Today is a very special day. I'm getting a new stove! I hear that I'm getting one that actually has the same temperature in the back half as the front half so I don't have to constantly rotate whatever I'm baking. And most importantly? Knobs on the top of the stove where little hands can't get to them. Ezra figured out how to get through the knob lock a long time ago, so I'm very excited to not have to gate off the kitchen any longer.
(And in just a few weeks I'm getting a new dishwasher too. I can hardly contain my excitement!!!)  
~6~
Ender has been working on learning the letters of the musical alphabet this week and we've been playing a lot of  games with those letters. I'll share some of our games on Monday!  
~7~
I think I have a good handle on how I want preschool to look- taking some from Project Based Learning, keeping much of what has already been working for us with Montessori, and adding a few workbook pages in since that's one of the things that Ender really likes. Our day will be set up on trays and in baskets in a traditional Montessori fashion, though there will be some things included that are not Montessori. The first part of our morning will be for this work and the second part of the morning will be for Ender to pursue whatever project he'd like to work on or for good old play time. I'm almost organized to start, so we'll get back to a daily work period either this Monday or the next.