Elizabeth Zimmeman's 36 stitch Mittens:
Toe-Up socks (basic ones, no fancy patterns this time):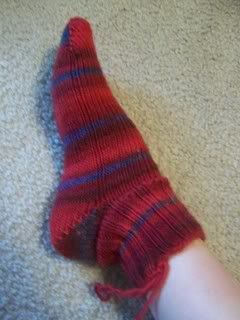 And a Talia vest:
I took these pictures on Sunday (when again, there was not a drop of sunshine to be had) to document my current knitting projects and since then the gusset is about 2 rows from being done on that sock, I'm past the thumb trick on the Elizabeth Zimmerman mittens and almost ready to start the end decreases, and I've added a few rows to the
Talia
vest.
The Talia vest is something I have to focus on somewhat. The chart isn't particularly difficult since the 10 stitch repeat on each row is pretty easy to memorize, but I do have to keep track of where I am unlike the mindless stockinette of the sock gusset, and even the mitten. On the mitten I knit where the knit stitches are and purl where the purl stitches are- easy. So I've been saving Talia for certain times where I can really concentrate on it- it's going to be a slower knit just because I can only really work on it a few times a week right now. Each row goes fairly quick for being 188 stitches though.
The Elizabeth Zimmerman Mittens have been fun and actually pretty easy once I worked out the bit of math in the beginning. I'm still thinking about which EZ pattern I'd like to try next. It's the big projects that attract me (like the February baby sweater, the raglan sweater, etc.) but I feel like I need to do at least one more smaller thing with her "pithy patterns" before I commit to a big sweater. Perhaps the Mocassin Socks?