I told you I'd show you a picture of the "Baby Legs" I made yesterday, and here they are: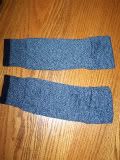 Cool, huh? I know, I know. I picked out some pretty blah colored socks to make them with, but since I was just trying out the pattern I didn't want to spend a ton on really cool looking socks just to have them get ruined with a bad pattern. Trust me- I'm going back for some more interesting socks to work with!
Here's a pic of the little prince wearing them: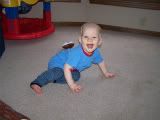 Yes, he's often that happy. Now that he can crawl pretty much anywhere he's a pretty happy camper.