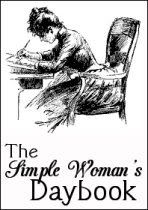 Please remember to stop over at Peggy's for her other links!For Today...
September 16
Outside my Window...
it is just getting to be light.
I am thinking...
I could use another cup of coffee, and thinking through my day today.
From the learning rooms...
we are focusing on art this week and trying a lot of different styles. We are going to paint with tempra paint for the first time today.
I am thankful for...
the last few days my husband has been off work and able to get his midterms done!
From the kitchen...
lasagna tonight, with garlic bread and green beans. I get to make muffins later this morning. Mmmmm....
I am wearing...
blue jeans, thick socks, and a sweatshirt from my alma mater. I'll change my shirt after baking this morning before my first student arrives.
I am reading...
Basic Montessori by David Gettman. Wow, what a thick read this has been, but really good stuff!
I am hoping...
for a new computer soon. Mine continues to shut down on its own, sometimes several times a day. It is just too old and it's on far more than it is capable of handling.
I am creating...
a new cleaning schedule since our old one no longer serves us with my change in teaching schedule.
I am hearing...
Nothing. It's nice. :)
Around the house...
lots  i'm working on getting the cold weather clothing out. I made it through Little Bit's clothes on Sunday, and I'm working on Big Kid's clothes. I still have my own today. time to put away the short sleeves and summery dresses!
One of my favorite things...
when my husband volunteers to take the boys out for an hour or two so I can do "whatever it is you need to do". He did that on Sunday and I got most of my billing done for the semester!
A Few Plans For The Rest Of The Week...
A trip to the library, bargain shopping at CVS, finishing the clothing project, starting to work on Christmas plans!
Here is a picture thought I am sharing with you...
Little Bit, "helping" with the laundry