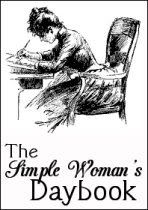 Please visit Peggy's to see the other Daybook entries.
For Today... Monday, September 22
Outside my Window...
quiet... it is late, and everyone is asleep.
I am thinking...
about tomorrow's lesson for Big Kid.
From the learning rooms...
lots of sorting activities- color, shape and size.
I am thankful for...
my boys going down for bed easily tonight.
From the kitchen...
leftovers today- vegetable soup and quesadillas.
I am wearing...
jeans, a red t-shirt and my hair pulled up, as much as short hair can be!
I am reading...
Basic Montessori by David Gettman and The Six Wives of Henry VIII by Alison Weir.
I am hoping...
for a chance to finish up with our seasonal wardrobe change. The boxes have been out for over a week and I've only completely finished Big Kid's clothes. I'm most of the way through Little Bit's, and I still have mine and Superman's to complete.
I am creating...
the quilt for Reed, and I'm knitting a new sweater for myself.
I am hearing...
a baseball game in the background.
Around the house...
all is clean- I have been cleaning like crazy this week!
One of my favorite things...
is planning new lessons for Big Kid.
A Few Plans For The Rest Of The Week...
piano lessons tomorrow, my regular work week, sending Big Kid off for the weekend on a fishing trip with his daddy and grandpa. Little Bit is staying with my dad overnight on Friday so that I can attend a Friday/Saturday women's conference with my sisters and my mom.
Here is a picture thought I am sharing with you...
Big Kid reading to Little Bit